Komadori Sanso – Try Waterfall Meditation And Unwind In Mt. Mitake's Nature!
Komadori Sanso is a lodging nearby a Japanese temple where you can try waterfall meditation, a special spiritual practice, in the middle of nature. There are over 20 temple lodgings in Mt. Mitake, Tokyo where you can have a one-of-a-kind experience.
A One-of-a-Kind Lodging Experience
Everyone has a different style when it comes to travel accommodations, but some people may want to try a Japanese-style lodging where to have a truly unique experience. Some travelers may also be looking for a place to stay where they can truly relax during their trip.
If this sounds like you, we recommend a shukubo.
Shukubo refers to lodgings originally made for temple monks and shrine visitors. These accommodations are now open to the general public, and the term refers to a facility that anyone can stay in.
One aspect of shokubo that differs from a typical lodging facility is that you can participate in spiritual and religious activities. For example, if staying at a temple, you can join in zazen meditation, shakyo (*1), and religious services in the morning with the temple monks.
Komadori Sanso, where we visited in this article, is the lodging for Musashi Mitake Shrine located on the 929-meter summit of Mt. Mitake. Here, you can experience the Shinto practice of waterfall meditation. As the guesthouse is perched on the summit, this nature-abundant location is completely surrounded by mountains for as far you can see.
*1 Shakyo: the act of copying and writing sutras on paper.
Komadori Sanso – Stay in the Middle of Nature
Komadori Sanso is located about an hour and a half by train from Shinjuku Station. Get off the train at JR Mitake Station, transfer to a bus, and then ride the ropeway for about six minutes to Mt. Mitake's summit. Komadori Sanso is around 20 minutes down the shrine road.
The vermillion gates bring out the Japanese shrine-like ambience. We walked through the gates and continued left, where we found a huge entranceway.
We were greeted by Mr. Yoshihiko Baba, the 17th generation owner, and his wife.
Mr. Baba is an oshi (Shinto priest) at the nearby Musashi Mitake Shrine. An oshi is in charge of the visits and lodging of people who come to shrines or temples. Following the tradition of shukubo that has continued since the Edo period, he currently runs the lodging together with his wife and son.
Mr. Baba say to us, "Please relax and take some personal time." We also learned that many people staying at the shrine spend the day quietly reading books or walking in the forest.
Waterfall meditation ("takigyo" in Japanese), an experience unique to staying at a shrine, is something you'll want to try at Komadori Sanso. We'll introduce some of the ways you can spend your time at Komadori Sanso for those that want to refresh both their mind and body.
Gaze Into the Forest and Listen to the Sounds of Nature
There are a total of ten rooms available in various sizes, from single-person to four-person rooms. In particular, the Yamadori no Aida room is popular due to its spacious veranda.
All rooms are laid out with tatami mats. Depending on the lodging, they will have a tokonoma (display alcove), shoji (paper sliding door), and fusuma (sliding screens), creating a traditional Japanese room.
The trees of Mt. Mitake as seen from the veranda in the Yamadori no Aida room
A mountain turtledove flew around us when we sat in the chairs on the veranda. You can also hear the cries of cuckoos in the distance.
Take in the forest and listen to the birds and insects chirping in the fresh air. Your mind will gradually begin to settle.
You can also enjoy tons of greenery from the windows of rooms without verandas, so please try taking a look outside.
Traditional Japanese Breakfast and Dinner
You can stay overnight without meals, but we recommend the plan that includes breakfast and dinner. On the day we traveled to the lodging for this article, Mr. Baba's entire family prepared dinner for us.
Dishes are made with regional and seasonal ingredients, including fish caught in Okutama, a nearby area, somen with summer vegetables like tomatoes and cucumbers, squash, lotus root, and shrimp tempura. As plenty of vegetables are used the meals are very healthy.
The menu will change depending on the season and season. If guests are staying for two or more nights, they will add more to the plating little by little. If you request beforehand, they will also make vegetarian and vegan meals. It may cost a separate fee of around 2,000 to 4,000 yen, so please check in advance.
Their drink menu includes Japanese sake, umeshu (plum wine), and beer. Shinto deities are also fond of alcohol. Historically, guests would stay the night after visiting the shrine and spend their time cheerfully while dining and drinking.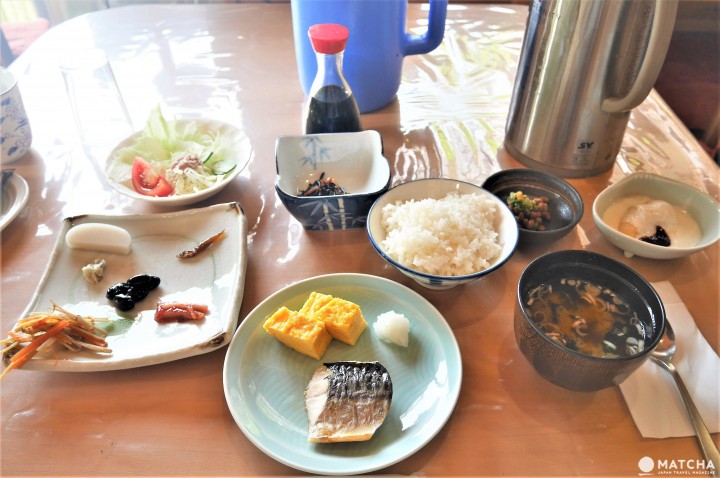 Breakfast is also Japanese. You'll be able to have a standard Japanese breakfast that includes miso soup, natto, and other dishes. Be sure to try the yogurt after your meal. It is yogurt Mrs. Baba has been making for guests for over 18 years.
Soak in a Large Bathtub and Relax
At Komadori Sanso, you'll find large bathtubs made with Japanese cypress and umbrella pine. Oil is produced from these two trees, making the wood strong against water and moisture. Umbrella pine is especially durable and doesn't decay, and is used as a material for high-quality baths.
During summer, cool yourself off by opening the windows in your room once you've gotten out of the bathtub. The temperature on top of the mountain is much lower than it is at the base and a refreshing breeze will pass through your room if you open your window at night. Please make sure the window screen is securely closed so as to not let any insects inside.
On clear nights, you'll be able to clearly see the stars and the night view. If you're lucky, you'll also be able to see musasabi (giant flying squirrels). If you ask Mr. Baba, he may lead you to an area with giant flying squirrels.
Early Morning Waterfall Meditation - Once-in-a-Lifetime Experience!
At Komadori Sanso you can experience the Shinto practice of waterfall meditation. Waterfall meditation is the practice of entering the basin under a waterfall and focusing the mind while being bathed by its waters.
Waterfall meditation takes place in the morning and evening as a rite of passage for entering the priesthood in Shintoism. Mr. Baba entered the Shinto priesthood after meditating under a waterfall for one week when he was 17 years old.
Komadori Sanso began offering this waterfall meditation activity to guests in 2000. When we asked why they began offering it, Mr. Baba stated, "It is because (waterfall meditation) refreshes the mind and will make you feel great afterward."
Mr. Baba loves meditating under the waterfall himself and he wanted guests to experience it, too.
Although all guests can try this meditation, it is important to remember it is a religious practice. You will leave the lodging at 5:30 in the morning and travel 30 minutes to Ayahiro Falls, where the waterfall meditation takes place.
Before entering the water, you will change into a white outfit called shiroshozoku, and warm up by chanting the name of deities in a loud voice. You will then head into the basin of the waterfall.
The water temperature of the falls will be around 10 degrees Celsius (50 degrees Fahrenheit), even on hot summer days. Some participants have also fallen ill from the cold and the suddenness of the waterfall. Please pour a sufficient amount of water onto your body if you'll be entering in order to adjust to the temperature.
Overwhelmed by the cold of the water and the pressure from the waterfall, your mind will go blank during your meditation. This will surely elevate your ability to concentrate in the present.
After we finished, we felt extremely refreshed, just as Mr. Baba said, and our minds and bodies felt light. We heard it isn't unusual for first-time participants to come back and practice again.
Once you've returned to the lodging, Mr. Baba will perform a purification ceremony (Shinto prayer) for you. After blowing into a conch, he will greet the deities. He will then play a large taiko drum and recite a Shinto prayer. The prayer chants along with the beating of the drums are very powerful.
After the ceremony, you will be given an amulet to ward off evil and bad luck. The amulet is a sticker which we suggest sticking somewhere at home.
The waterfall meditation experience is offered from March to November. However, there are also days when it is not offered, so be sure to check beforehand when making your reservation. The experience may also be canceled due to the weather.
We recommend bringing clothes that are easy to move in, as you'll be walking on a mountain trail to the falls, as well as beach sandals for entering the basin.
Visit Musashi Mitake Shrine
On the days when there is no waterfall meditation or for travelers who may not feel confident about trying it, you can participate in the daily worship at Musashi Mitake Shrine. During daily worship, prayers are recited at the worship hall for the prosperity of the region. It takes place every morning starting at 7:00.
Daily worship requires a reservation and an additional fee of 500 yen by 20:00 the previous day. Be sure to ask Mr. Baba about it if you're interested.
Musashi Mitake Shrine is a shrine that worships a wolf as its deity, which is quite unusual in Japan.
An anecdote found in the "Nihon Shoki," Japan's oldest record of Japanese history, states that a white wolf guided troops commanded by the hero, Yamato Takeru-no-Mikoto, when they arrived at this area.
Mt. Mitake, protected by this wolf, is known as one of the major sacred mountains in Japan. The mountain is visited by both locals and tourists who want to experience the power of its sacredness. You can also visit the shrine at times other than during the daily worship. We recommend visiting after meditating under the waterfalls.
Unwind during your Japan Trip at a Shrine Lodging
Tokyo is a metropolis where we must walk to avoid pedestrians coming towards us, with a background of sounds from car engines from the main street and giant advertisement displays. However, Mt. Mitake is very different from the "Tokyo" that we usually imagine.
Refresh and recharge yourself with waterfall meditation. Sweat on a hike. Feel the wind on your skin in the great outdoors, listening to the noise of insects. Read while basking in the sunlight. There are many ways to enjoy your time here.
For a moment, forget about the busyness of every day and rejuvenate mind and body at Komadori Sanso.
Please make your reservations on the official website or booking website.
In cooperation with Komadori Sanso

The information presented in this article is based on the time it was written. Note that there may be changes in the merchandise, services, and prices that have occurred after this article was published. Please contact the facility or facilities in this article directly before visiting.