Oak Hotel Ueno/Asakusa: Perfect For Exploring And Uniting Travelers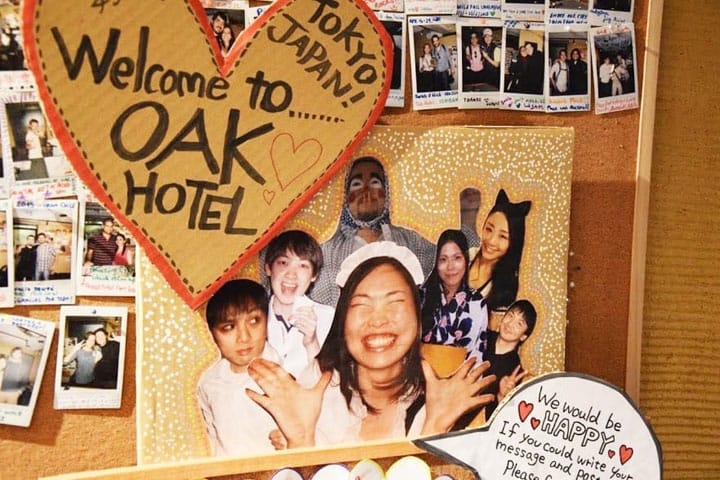 Looking for a place to stay in Tokyo? Want value, exceptional service, and a great location. Then book a room at Oak Hotel in Ueno.
Choosing a hotel is of utmost importance to any traveler who's visiting Tokyo for the very first time. There are many things that can make or break your travel experience, anything from having access to great facilities and service through to whether there's a help desk that can provide valuable Tokyo tourist information at your place of accommodation. Oak Hotel in Ueno enjoys high acclaim among a number of international travelers, for it provides plenty of opportunities for interaction with not only hotel staff and other lodgers, but with other travelers at large.
The world's travelers convene at Oak Hotel
Oak Hotel is conveniently located in Ueno, with great access to both Narita and Haneda airports. The hotel welcomes travelers from all over the world.
Not only that, but just hop on the train at Ueno Station and you'll reach Tokyo's quintessential tourist destination, Asakusa, in just 5 minutes. Ueno is the perfect location for touring around Tokyo.
Notwithstanding their value pricing on accommodation, Oak Hotel offers quality customer service to all guests. It is this exceptional service that has allowed Oak Hotel to gain recognition and obtain high ratings on various travel websites.
Welcoming travelers with its at-home vibe
People can't help but feel out of their element when they find themselves in a new country or culture. The cozy and at-home vibe that Oak Hotel offers makes people comfortable and is what gives the hotel its charm.
At Oak Hotel, you'll be able to witness casual and friendly interactions between guests and staff.
Guests can feel free to go up to staff and freely ask such things as "I'm going to Asakusa tomorrow but have no idea what to do... what do you recommend?" or "Are there any places where I can join some kind of cool workshop?"
In response, you'll hear such things at, "Have you ever heard of this? I think you should try it!" or even invitations to get together with other travelers, such as "Well, I heard that group over there is heading to Asakusa tomorrow, maybe you can tag along!"
The staff at the hotel have expert knowledge on all things Tokyo and will kindly offer you suggestions on places to go, things to see, and cultural experiences to be had. So, if you're at a loss for ideas, make your way to the front desk and have a chat with the staff.
Guests can make the lounge a place for making friends and planning their next big adventure. There are plenty of travel magazines and opportunities to talk with other travelers.
Clean rooms, packed with all the amenities you need
Japanese-style Single rooms (from ¥6,800)
The room offers the essentials in a clean and unadorned space. All rooms are equipped with a private bathroom, air conditioner, television, Wi-fi, refrigerator, and hair dryer. Guests also have free access to other amenities and toiletries (face towels, bath towels, soap, tooth brushes, razors, all-in-one shampoo, slippers, and Japanese robes).
Twin rooms (from ¥10,000)
With rooms ranging from 6,800 to 10,000 per night, guests can enjoy amazing deals on Oak Hotel's great services and amenities.
Facilities and Services that win guests over
Everywhere you look in the hotel, you'll find all kinds of flyers and pamphlets filled with tourist information.
Guests can truly get a glimpse of just how much care the hotel puts into providing their guests with all the information they may need, from information on topics guests have brought up or topics the staff deem of interest through to information on activities that everyone from solo travelers to large groups can enjoy.
Guests can jot down their messages for the hotel staff or places that they enjoyed on their trip in this notebook. Here again, we can see a simple way in which travelers can connect with each other.
Guests also have access to practical facilities at the hotel, such as coin-operated washing/drying machines and lockers, as well as a kitchen and desktops. The front desk also offers guests such services as baggage check、fax, and copying, as well as free rentals of humidifiers, irons, and more!
But that's not all! As a means of expanding their services to guests, the hotel now offers electric bicycle rentals. Guests can take advantage of this service for only ¥500 a day. It's a great way to enjoy cycling around Tokyo on a sunny day.
By cycling around, you might even come across a whole new side of Tokyo that you might have missed had you taken the train!
So what are you waiting for? Want to enjoy the at-home vibe and friendly service Oak Hotel has to offer? Then, click here to book a room for your Tokyo travels and make some great memories! (Oak Hotel does not accept phone reservations.)
Information
Oak Hotel
Address: 6-1-2 Higashi-ueno, Taito-ku, Tokyo
Access: 2-min walk from Inaricho Station on the Tokyo Metro Ginza Line
and 10-min walk from Ueno Station on the JR Yamanote Line
Phone Number: +81(0)3-5828-0551 (for inquiries)
Bookings: Oak Hotel Official Website
Languages: Japanese and English

The information presented in this article is based on the time it was written. Note that there may be changes in the merchandise, services, and prices that have occurred after this article was published. Please contact the facility or facilities in this article directly before visiting.