Japan's Kawaii Culture: What Is It And Where Can You Find It?
This article takes a look at just what the word kawaii means, and its impact on Japanese culture. Learn all about kawaii characters, places, souvenirs, fashion styles and more!
11. Tokyo Character Street
Tokyo Character Street handles the character merchandise of internationally-famous Japanese properties such as Studio Ghibli, Pokemon and Weekly Shonen Jump, as well as kawaii Sanrio products. This one-stop shop is noted for its varied selection, which lets shoppers efficiently pick up goods from all sorts of genres without having to go around to the official stores.
Easily accessible from the Yaesu exit of Tokyo Station, it's ideally located for a quick visit while you're waiting for a connecting train. If you want to buy a lot of character goods or compare lots of different souvenirs, stroll over to Tokyo Character Street.
Address: Tokyo, Chiyoda Ward, Marunouchi 1-9-1 Tokyo Station Ichiban-gai
Phone: 03-3210-0077
Website: http://www.tokyoeki-1bangai.co.jp/street/character
12. Daiso (100 Yen Store)
The 100-yen store chain Daiso has expanded throughout Japan and even overseas. You can even get kawaii goods here, too. Don't dismiss Daiso out of hand just because it's a 100-yen store - accessories, stationery, cell phone cases and other goods sold here have patterns that pop with color, and even feature popular characters like Hello Kitty. When you see them, you won't believe the 100 yen price tag (before tax).
Daiso - Asakusa Rox
Address: Tokyo, Taito Ward, Asakusa 1-25-15 Asakusa Rox 4F
Phone: 03-5827-1905
13. The Coloring Book Art Museum
If you'd like to see where the first glimpses of Japan's cute culture came from, then the Coloring Book Art Museum is a must during your trip to Japan. Here you can see original coloring books from the pre- and post-war period of Japan, as well as international coloring books, and even color your own replicas of these original works!
Address: Tokyo, Arakawa, Machiya 4-11-8
Phone: 03-3892-5391
Website: http://www.nurie.jp/foreign/index_eng.html
14. The Kawaii Monster Cafe in Harajuku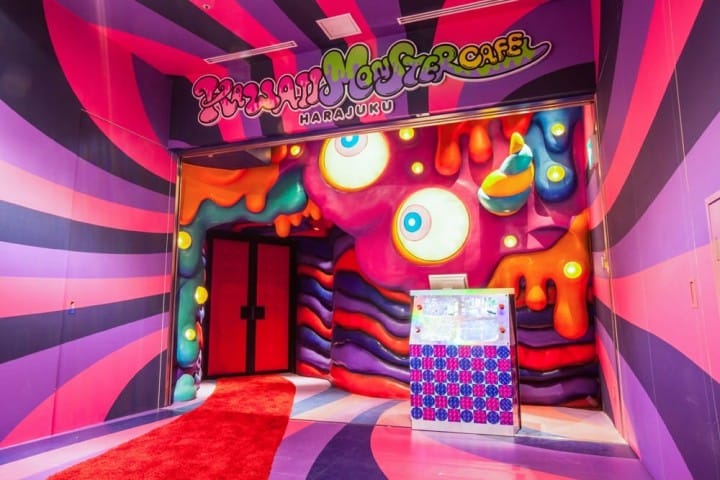 Opened in August 2015, the Kawaii Monster Cafe in Harajuku is a colorful, creative cafe where visitors can enjoy a space and menu packed from floor to ceiling with cutting edge kawaii culture.
Address: Tokyo, Shibuya-ku, Jingumae 4-31-10 YM Square 4F
Phone: +81-3-5413-6142
Website: http://kawaiimonster.jp/
Our Most Recommended Kawaii Souvenirs!
It's not enough just to look at kawaii items - you'll want to buy them, wear them, and have them by your side. Here are some of the most popular kawaii items to get for your own use or as souvenirs for your friends back home.
Character Socks
There are probably a lot of people who want to wear kawaii fashion accessories featuring their favorite characters, but are afraid of looking "childish." For those people, we recommend character socks. So long as you don't take off your shoes, no one will see them, so there's no need to worry. They're also great as souvenirs, since they don't take up much space in your suitcase. They're not particularly expensive, either, so you can easily buy them in packs.
Character Chopsticks
Chopsticks have been vital cutlery ever since ancient times, and are the perfect souvenir to bring back from Japan. While there are plenty of kawaii designs on regular chopsticks, less-conventional chopsticks with popular characters on them are also quite popular. Combining a legacy of tradition with popular modern subcultures creates a souvenir that reflects both old and new Japan.
Character Key Chains
You'll often see key chains of popular Ghibli or Sanrio characters such as Totoro and Hello Kitty, and the number of available variations will make it difficult to choose just one. Special Hello Kitty key chains are exclusively sold in specific regions in Japan, and there are many collectors who buy the regional Hello Kitty item wherever they visit. These regional Hello Kitty key chains will have some feature unique to the surrounding area, and will certainly be a special keepsake of your journey.
Stickers
With a simple sticker application, the mundane becomes kawaii! Use them to mark your things, or use them as original goods. Sticker sheets are a staple at any character shop. Since they're quite affordable, even if there are many different versions, you can buy all of them without hesitation. The sheets are flat, small, and cheap, so they make perfect souvenirs.
Gacha-Gacha (Capsule Toys)
The Japanese word "gacha-gacha" refers to capsule vending machines, and can also be used to refer to the figures and toys contained within those capsules. In most cases, a gacha-gacha machine will contain different capsules based on a single theme, and can feature a wide variety of different characters too. It's really fun to keep testing your luck until your target capsule pops out. Even if you don't get it, or you end up collecting duplicates, why not give them away as souvenirs?
Kawaii Snacks At Convenience Stores
Even convenience stores are stocked with kawaii products. Snacks made in collaboration with popular character brands, sweets with kawaii packaging, and snacks featuring original characters are plentiful at convenience stores. Since convenience stores are everywhere in Japan, you can satisfy your cravings as soon as you feel the urge to snack on something kawaii, which is quite helpful.
Cell Phone Cases
For many Japanese people, their cell phones are their constant companions. Since cell phones are so important for daily life, it's natural to handle them with care, which is why cases are so essential. You can find all kinds of cell phone case designs being sold at cell phone retailers, consumer electronics stores, and even at 100-yen shops. Or you can pick up some washi tape and make your very own kawaii case too!