Direct Access From Shibuya Station! Original Japanese Sweets At ZEN KASHOIN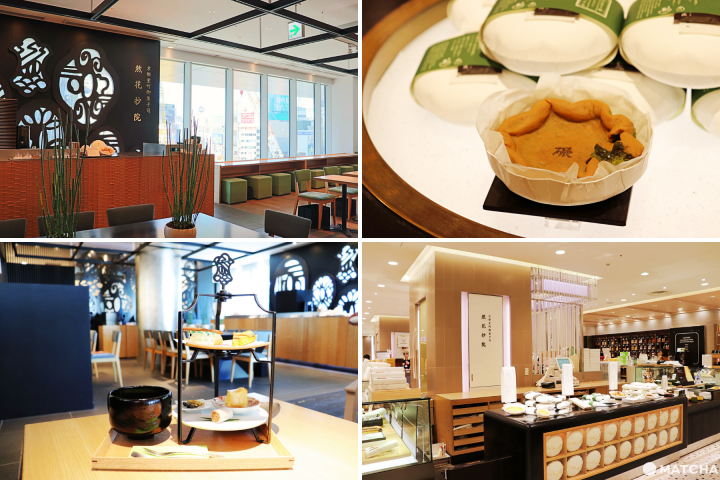 ZEN KASHOIN is a shop where visitors can eat exquisite Japanese sweets and tea while overlooking Shibuya. Their desserts are known for their creative touches to traditional recipes. We'll introduce a mouthwatering menu exclusive to this location!
ZEN KASHOIN - Taste Original Japanese Sweets!
Have you ever heard of ZEN KASHOIN, a wagashi (traditional Japanese sweets) shop in Muromachi, Kyoto?
This popular shop is where you can try original Japanese desserts made with a creative twist on traditional methods.
ZEN KASHOIN has one branch in Tokyo, called ZEN KASHOIN Shibuya Hikarie ShinQs. It is located inside Shibuya Hikarie, a shopping and commercial facility directly accessible from Shibuya Station.
The shop is extremely popular as you can taste delicious, high-quality Japanese sweets in the middle of the convenient Shibuya area. In this article, we'll be introducing their limited-edition menu exclusive to this shop.
Shibuya Only! Karaku Japanese Afternoon Tea
Pictured above is a two-tiered tray topped with eight different types of Japanese sweets along with Japanese tea.
This is the Karaku set, an option you can order only at ZEN KASHOIN. You can enjoy this year-round, but the types of sweets served will change according to the season.
The sweets contained in the Karaku set are all original. First, let's start with the top tier.
The first sweet is the Zen Castella. This sweet has been slowly baked in a paper container and is a standard ZEN KASHOIN dessert. The castella is made using the eggs from chickens raised in Kyoto and fed regional Tango black soybeans, giving the cake a rich flavor.
In the middle is a meringue. The flavor changes by season; pictured above is a yuzu (*1) meringue. The meringue has a melt-in-your-mouth texture and a pronounced yuzu taste.
On the left is the Rainbow Shards, a dessert made with agar-agar. It is flavored with citrus, hakka (*2), and grape. It is texturally a slightly hard jelly and has a refreshing taste that is not overly sweet.
*1 Yuzu: a type of citrus fruit.
*2 Hakka: a type of mint.
The bottom tier also has a few sweets, including Pohran (right), a baked sweet similar to cake, consisting of custard poured into castella. The dish has a velvetty texture from the high-quality eggs.
At the front of the plate is Shochin. It is made by kneading together hattaiko (*3), coarse red bean paste, and fresh cream, wrapped in gyuhi (*4). It has a distinctive doughy texture and a mild sweetness from the coarse bean paste mixed with hattaiko.
Lastly, we'll introduce two palate cleansers on the left of the plate. In Japan, palate cleansers are salty in order to freshen your mouth after something sweet.
The Karaku set comes with tamashigure, a preserved food simmered in soy sauce, bringing out an ocean-like scent and sansho pepper flavor, and kombucha arare crackers filled with kelp flavor. These refresh your taste buds and bring out the sweetness of each dessert.
*3 Hattaiko: flour made from barley and other ingredients that have been parched and milled.
*4 Gyuhi: a type of ingredient used in traditional Japanese sweets. It is made by adding sugar and a thick malt syrup to refined rice and glutinous rice flour. Gyuhi has a springy texture.
Comes as a Set! Enjoy Various Japanese Teas
Japanese tea comes with the Karaku set.
You are given a choice of five different teas: green tea, gemaicha (brown rice tea), Kyobancha (coarse tea from Kyoto), kelp tea, and matcha (powdered green tea).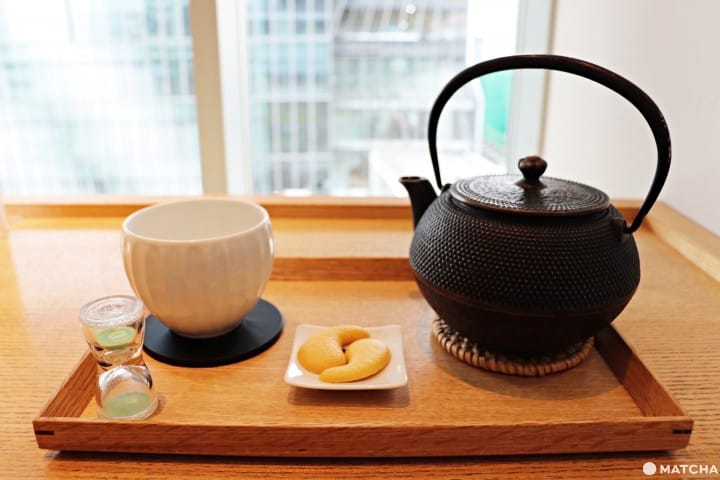 We especially recommend the coarse tea from Kyoto and brown rice tea. The shop brews and serves the tea in a nanbu tetsubin (*5), a traditional kettle from Iwate Prefecture.
The coarse tea is made with tea leaves from Kyoto and is very aromatic. The brown rice tea is an original blend of Uji green tea, brown rice, and powdered green tea.
The Karaku with Drink Set is 1,800 yen including tax (comes with your choice of tea), and the Karaku with Powdered Green Tea Set is 1,900 yen including tax.
*5 Nanbu Tetsubin: a vessel for boiling hot water. Nanbu tekki is a smaller, tea kettle version of the tetsubin that has been made since the 17th century in what is present-day Iwate Present.
The atelier seen inside the shop.
There are many vividly colored Japanese sweets that you can try with aromatic Japanese tea. Both your eyes and stomach will be extremely satisfied.
The Zen Castella, one of the shop's most popular items in the Karaku set, is made on the same day. In order to make it possible for customers to eat freshly baked desserts, preparations are begun early in the morning in the atelier located next to the café!
An Interior Expressing Urban Japan
ZEN KASHOIN is on the fifth floor of Hikarie, where the lifestyle good stores are. Please note it is located behind the shops, towards the back of the floor.
Due to the café's popularity, a line forms often in the afternoon. You cannot make a reservation, so you'll have to wait while sitting in the chairs at the front of the shop if you'll be standing in line. We suggest visiting in the morning to avoid waiting.
The inside of the shop has an contemporary, urban Japanese concept. Here, you can take in the city atmosphere with views of the streets of Shibuya while enjoying the Japanese-style interior with green tea-colored chairs and wooden tables.
After being guided to your seat, take a look at the menu and place your order. The staff are able to provide support in simple English and the there are English descriptions on the menu so you can feel at ease.
Take Home Souvenirs from the Basement-Level Shop
Do you want to take back the Japanese sweets you ate at the café to indulge again or give as souvenirs? Or, do you not have enough time to stop by for tea and desserts?
If this describes your situation, you can purchase ZEN KASHOIN sweets at their shop located on second basement level (B2F) in the same building as the café.
Recommended Products
The most popular item is the Zen Castella (646 yen and up including tax), which we introduced earlier in the Karaku set.
We also suggest bringing home the large size (1,620 including including tax) to share and eat with everyone. However, the expiration date is only two days (including the day it is made), please keep this in mind when purchasing one!
Several other original sweets and seasonal confectioneries, such as the matcha flavored Zen Castella Ten (778 yen including tax), are also available at the shop.
Special Packaging
Great care have been given to ZEN KASHOIN products down to their packaging.
Muromachi Bolo is a sweet with a light texture made with the same batter as the Zen Castella. A feature of its packaging (pictured to the right) is its simple, white design.
Picture courtesy of ZEN KASHOIN
Muromachi Kashi is an assortment of seasonal sweets with different packaging every season. Pictured is the autumn and winter packaging. Its design using black ink is lovely.
Enjoy Original Sweets at ZEN KASHOIN!
ZEN KASHOIN is where you can taste special, original sweets that incorporate the seasons.
Why not enjoy these innovative sweets while overlooking the streets of Shibuya?

In cooperation with ZEN KASHOIN

The information presented in this article is based on the time it was written. Note that there may be changes in the merchandise, services, and prices that have occurred after this article was published. Please contact the facility or facilities in this article directly before visiting.