10 Top Winter Activities In Tokyo In 2020! Seasonal Events And Travel Tips
Tokyo has no shortage of things to do in the winter, from clear skies where you can see Mt. Fuji, to cultural events at Sensoji Temple. Learn 10 things to do to beat the cold, and helpful tips to save on travel time and costs while doing so.
Enjoy Winter in Tokyo while Saving Time and Yen
Upper-left picture courtesy of Pixta.
Winter in Tokyo is a festive season that, with some planning, can keep you warm and out of the cold. From light-up displays in the city and amusement parks, to seasonal food and cultural activities, there is no shortage of fun to be had even during winter temperatures. Winter is a great time to be in Japan's capital.
Continue reading for more ideas on how to enjoy the season while saving expenses and time.
1. Be Dazzled by Illuminations
Winter evenings in Tokyo are stunning due to a large number of areas in the city being illuminated. From the area around Marunouchi by Tokyo Station to Tokyo Dome, a night stroll with some friends or a special someone is the answer to making an entertaining night. We especially recommend seeing the illuminations here, which last until February 26, 2020 (the area lights up between 17:00 and 24:00).
Pair the gorgeous lights with a day of fun at Tokyo Dome City, the amusement park, and Space Museum TeNQ, an entertaining museum where you can learn about outer space, for a full day and evening of entertainment.
Book your joint ticket here:
Tokyo Dome City and Space Museum TeNQ Ticket
2. Head to the Hot Springs
Even big cities like Tokyo have places where you can enjoy hot springs! Oedo Onsen Monogatari in Odaiba is one of the high-quality facilities around, with open-air baths, saunas, and rock baths. There is also a lounge area, game corner, and restaurant so you can spend time relaxing after you finish bathing. The warm waters and steam may be just what you need during the chilly winter.
Reserve your admission for hot springs in advance:
Oedo-Onsen-Monogatari Admission Ticket
3. Shop and Save During Tokyo's Annual Sales
Picture from Sales In Japan - Annual Guide On When To Buy What
Several major shopping areas in Tokyo, including Shinjuku, Harajuku, and Shibuya, are known for their annual sales that occur in winter. December and February, in particular, are great months for deals.
This season is an excellent time to find deals on apparel, accessories, shoes, and other items in Japan. Since shopping is indoors, this is an optimal activity for when it's too cold outside to walk.
To navigate around the city to visit your favorite shops, we recommend using an economical ticket for the Tokyo Metro and Toei Subway. 24-hour, 48-hour, and 72-hour tickets are available, making it possible to travel economically for multiple days while getting deals on shopping.
Reserve your discount transportation ticket:
Tokyo Subway Ticket (24, 48, or 72 Hours)
4. See Mt. Fuji from Skytree
Photo by Pixta
Did you know you can see Mt. Fuji from many spots in Tokyo? The TOKYO SKYTREE (Skytree) is one of these places, and the clear skies of winter offer one of the best chances to see the iconic mountain from the metropolis.
There are two observatories at the Skytree: one is located at 350 meters (1,148 feet) and the other at 450 meters (1,476 feet). A discount ticket for one or both levels is an economical way to enjoy the views in winter. You can also save time by not waiting in line to purchase your ticket at the door.
Purchase your ticket in advance for a discount:

TOKYO SKYTREE® Admission Ticket
5. Meet Hello Kitty at Sanrio Puroland
Picture courtesy of Sanrio Entertainment Co. Ltd
Sanrio Puroland, or Tokyo Hello Kitty Land, is a park themed around internationally-popular Hello Kitty and her friends. There are Sanrio themed-games, rides, photo spots, and performances to enjoy for a day of fun. Character greetings are another way to enjoy a day at the park. Be sure to bring a camera!
Starting in winter 2020, visitors can celebrate My Melody's 45th birthday with character-themed rooms, a new My Melody shop, and other special themed surprises. As the theme park is indoors, you'll be cozy all day long, no matter how cold it is outside.
All your childhood dreams will come true at this adorable theme park! Puroland is an excellent destination for those with kids or the young-at-heart.
Book your ticket in advance:
Tokyo Sanrio Puroland Admission Ticket


6. Spring Bean Throwing at Sensoji Temple
Picture from 15 Winter Things To Do In Japan - Hot Springs, Festivals, And Glistening Snow! (courtesy of JNTO)
February 3 marks Setsubun, or the first day of spring, according to the traditional Japanese calendar. In honor of this day, temples and shrines throughout Tokyo hold special events for the occasion. Sensoji Temple in Asakusa, in particular, is known for its large-scale event, where priests toss soybeans out of the temple as a gesture of getting rid of bad luck for the coming season.
Guided tours are a great way to learn firsthand about these customs and get a more in-depth experience.
Book your ticket now:
Tokyo Afternoon Tour
7. Visit the Ghibli Museum
Picture from The Ghibli Museum In Mitaka - Welcome To The World Of Ghibli!
The Ghibli Museum is a must-visit for anyone with even the slightest interest in Japanese animation and film. A theme park-like museum featuring everything related to Hayao Miyazaki and Studio Ghibli films, spend a couple of hours here exploring the fantastical worlds from "Spirited Away," Howl's Moving Castle," and other classic films.
This museum is also indoors, so winter is an ideal time to visit. There is also a restaurant to enjoy a delicious meal after you've browsed the museum. Inokashira Park is a famous park nearby also worth strolling in.
Book your ticket now:
Tokyo Ghibli Museum and Inokashira Park Walking Trip
Please note that Ghibli Museum tickets are very popular and typically sell out quickly. The date on which you want to visit may not be available, so book early!

8. Celebrate on a Tokyo Bay Night Cruise
Go on a cruise to see gorgeous scenery like this. Photo by Pixta
For a special evening activity, we recommend a night cruise on the Tokyo Bay. Ideal for birthdays, anniversaries, or any evening when you want to celebrate, the views from the boat and excitement of the trip are guaranteed to create many memories.
There are many ways to cruise around the bay. Board the Symphony, a cruise boat that offers a full-course dinner, as it travels around the Bay, past the Odaiba Rainbow Bridge, Tokyo Tower, and Tokyo Skytree, following a heart-shaped route.
Book your Tokyo Bay cruise now:
Tokyo Bay Dinner Cruise (The Symphony)

9. Warm Up with Hot Pot and Oden
With so much fine dining in Tokyo, trying seasonal food in the winter is a must. Hot pot dishes, including shabu-shabu and sukiyaki, are popular during the cold season. Another recommendation is oden, or vegetables, fish, and other ingredients simmered in a flavorful broth.
Numerous restaurants in Tokyo specialize in these dishes, like Asakusa Oden Otafuku. To travel easily to these restaurants, we highly recommend using a discount transportation pass.
Reserve your discount transportation ticket:
Tokyo Subway Ticket (24, 48, or 72 Hours)
10. Savor Strawberry Daifuku and Winter Sweets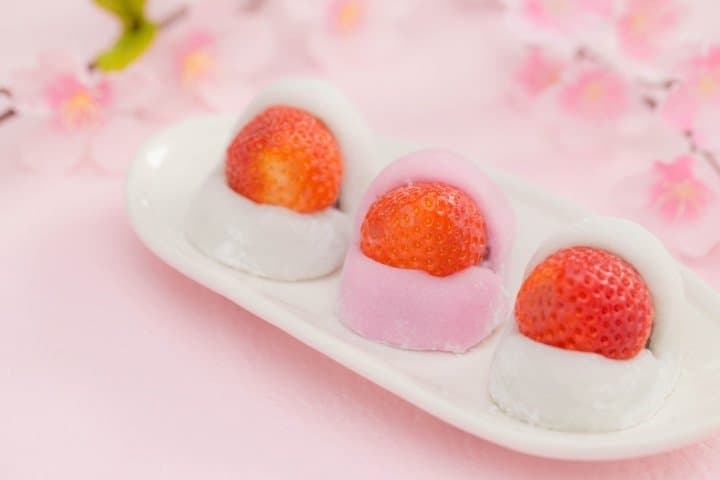 If you have a sweet tooth but want to eat seasonally, look no further than wagashi, or Japanese sweets. One of the most common winter treats is ichigo daifuku, which consists of mochi, red bean paste, and strawberries, the in-season fruit in winter. The complexity of flavors and textures makes this is classic winter dessert very popular with many.
There are may other in-season fruit and sweets, like mikan oranges and sweet potato. Look for these ingredients in mochi, sugared, or enjoy them by themselves. Roasted sweet potato, or yakiimo is a popular treat often sold out of trucks in Tokyo neighborhoods.
Many shops and stands where you can get the best-tasting snacks are in areas where using the subway or metro is convenient, like Asakusa, or Gotokuji near Shibuya. We recommend using a discount transportation pass to see these neighborhoods and get delicious treats.
Reserve your discount transportation ticket:
Tokyo Subway Ticket (24, 48, or 72 Hours)
Make the Most of Winter in Tokyo!
The special winter activities and attractions in Tokyo make winter a little bit warmer and more enjoyable. Enjoy an activity-filled season in the metropolis while traveling smart, saving yen and time.
Main image by Pixta

The information presented in this article is based on the time it was written. Note that there may be changes in the merchandise, services, and prices that have occurred after this article was published. Please contact the facility or facilities in this article directly before visiting.