Osaka - 10 Free Things To Do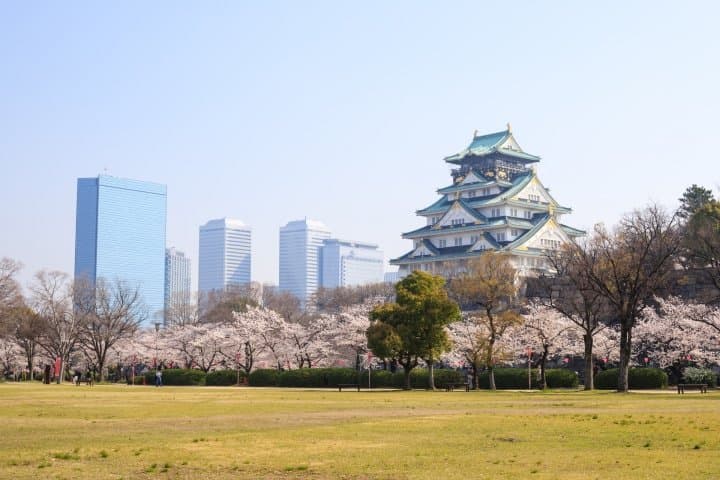 Osaka is famous for food, shopping and many fun places. We found ten things you can do for free, from Osaka Castle strolls to hiking at Minoo Park. Visitors can save money on these activities to spend more on delicious dishes and fun souvenirs when visiting.
Free and Budget-Friendly Osaka Activities and Attractions
Osaka is one of the most visited places in Japan. It is best known for food, entertainment, and shopping, but that doesn't mean you have to spend a large amount of money when visiting. There are a lot of places and activities you can enjoy without spending yen, and Osaka offers some very affordable hostels. The popular local food such as okonomiyaki and takoyaki are very inexpensive.
In this article, we even gathered ten things that you can do completely for free in Osaka
Free Things in Osaka:
1. Watch Free Shows in America Mura
2. Make Lasting Memories in Dotonbori
3. Watch Free Summer Fireworks
4. Celebrate a Festival with the Locals
5. Visit Osaka Castle
6. Take a Stroll in Minoo Park
7. Discover the World of Asahi Beer
8. Enjoy the Instant Ramen Museum
9. Learn All about Japanese Money at the Mint Museum
10. Experience New Technology at the Panasonic Center Osaka
Honorable Mention - Get the OSAKA AMAZING PASS
1. Watch Free Shows in America Mura
Picture from Great Amerikamura Experience with Takoyaki and Beer in Sankaku Koen!
Amerikan Mura, or American Village in English, has gotten its name from the fact that it is filled with import stores carrying American goods and clothing items. It is also the place to go for budget-friendly second-hand shopping.
Picture from Shinsaibashi And Dotonbori - 11 Fun Things To Do In Osaka!
Amemura, as it is called for short, is one of the places where the youth gathers in Osaka. It is often called Osaka's Harajuku. Street artists are a common sight in the area, allowing people to enjoy free performances.
There are also official events held at Amemura's Sankaku Koen, or triangle park, on the weekends. They are mainly signing and dance contests which makes for great free entertainment.
Picture from Great Amerikamura Experience with Takoyaki and Beer in Sankaku Koen!
If you want to invest in some street food while watching a free performance, Amemura is particularly famous for takoyaki (octopus filled dough balls). They retail for only about 300 to 500 yen per portion.
2. Make Lasting Memories in Dotonbori
Picture from Shinsaibashi And Dotonbori - 11 Fun Things To Do In Osaka!
Dotonbori and Shinsaibashi are must-visit areas in Osaka. Although known for shopping and delicious street food, you can easily enjoy completely free fun here as well.
How about finding all the fun, large-sized shop displays and taking photos of or even with them? Don"t forget to pose with the famous Glico runner on the Dotonboribashi Bridge.
Picture from Shinsaibashi Shopping Guide – Fashion, Cosmetics, And Local Dishes In Osaka!
Window shopping in the area can also be an interesting activity. Shinsaibashi is an area with the latest trends waiting to be discovered.
3. Watch Free Summer Fireworks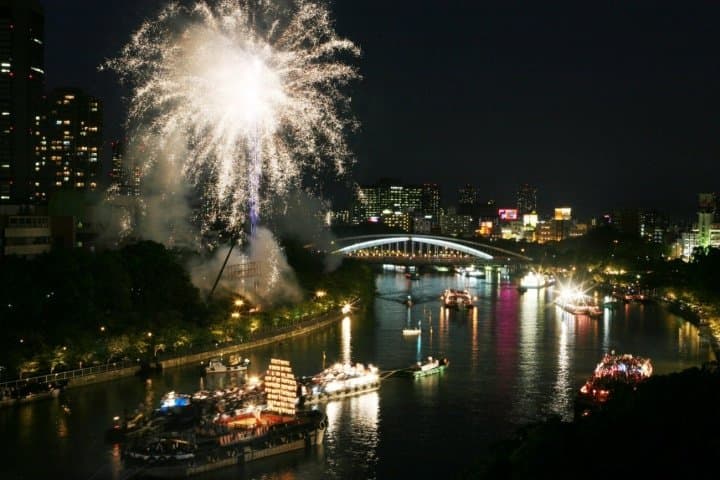 Picture from 7 Amazing Firework Festivals Near Osaka And Kyoto In 2019
If you visit Japan in summer, there will always be free fireworks (hanabi) somewhere in the area you visit. These fireworks have been a Japanese tradition for centuries.
The two biggest firework festivals in Osaka are the Tenjin Matsuri Festival in July and the Naniwa Yodogawa Fireworks Festival in August. If you can't make it to either one, there are many smaller fireworks displays in the area all throughout the summer.
4. Celebrate a Festival with the Locals
Picture courtesy of Tenjin Matsuri In Osaka 2019 - Festival Events, Schedule, And Access
Many festivals are held in summer, but you can find ones year-round in Osaka. Festivals in Japan are nearly always linked held by shrines and temples and you will see mikoshi, or portable shrines, being carried throughout the streets. This can be experienced at major festivals, like the Toka Ebisu Festival in early January, and the Kishiwada Danjiri Festival in fall.
Joining a festival is always a great way to mingle with the locals. Some people will walk along while others just pick a place and watch the festivities pass by while enjoying some snacks and a cool beverage. If you want to save money you can bring snacks and drinks from home.
5. Visit Osaka Castle and Castle Park
Picture from Osaka Castle Park - A History Walk Through Nature's Timeless Beauty
Osaka Castle is always worth a visit even if it is just for the beautiful castle park. The park is home to a variety of signature Japanese trees. In early spring, peach and plum blossoms bloom around the castle and around March the park is dipped in the famous hues of cherry blossoms.
Entering Osaka Castle costs 600 yen, but seeing it up close and photographing it from the outside is completely free. Sometimes there are even small historical themed festivals held around the castle where you can dress up as a samurai for free.
6. Take a Stroll in Minoo Park
Picture from Minoo Waterfall - A Place Of Scenic Beauty Near Osaka
Minoo Park is a vast, nature-rich area enjoyable free of charge, especially famous for its momiji, or Japanese maple. The area is so famous for momiji, that you can even purchase fried maple leaves as snack.
Picture from Minoo Waterfall - A Place Of Scenic Beauty Near Osaka
When visiting Minoo Park, you must visit Minoo Falls as well. It takes a little bit of a hike from the entrance of the park to the falls, but it is well worth it.
In summer, people like to take off their shoes and walk through the shallow waters close by the falls. There are even some rocks in the middle of the water that you can sit on and watch the falls. Minoo Park is a great place to relax and take a break from the city.
7. Discover the World of Asahi Beer
Picture from What's In That Can? A Guide To The Taste of Japanese Beers
Asahi is one of Japan's most famous beers. The Asahi Beer Suita Factory in Osaka is the company's first brewery. It was built in 1891.
The brewery offers free tours, which last about ninety minutes and include a tasting session. Most tours are conducted in Japanese. English tours are only held only on a few selected days, but multilingual audio guides are available for your mobile device.
Asahi Beer Factory Offical Website: https://www.asahibeer.co.jp/brewery/language/english/
8. Enjoy the CUPNOODLES MUSEUM OSAKA IKEDA
Picture from Make Your Own Cup Noodles At The Instant Ramen Museum In Osaka
The CUPNOODLES MUSEUM is located in Ikeda City in Osaka, the birthplace of chicken ramen cup noodles. Momofuku Ando invented the world's first instant noodles here in 1959. Later he founded Nissin Food Products Co., Ltd.
The CUPNOODLES MUSEUM OSAKA IKEDA was established in 1999 to introduce the history of Nissin's famous instant noodles. Did you know there was even a special version made to be enjoyed in outer space?
The admission to the museum is free. There are activities such as creating your own cup noodles as well as making the famous chicken ramen, which are subject to a small charge. However, they are highly recommended, especially when traveling with children.
CUPNOODLES MUSEUM OSAKA IKEDA Official Website: https://www.cupnoodles-museum.jp/en/osaka_ikeda/
9. Learn all about Japanese Money at the Mint Museum
The Mint Museum is a free museum exhibiting the history of Japanese money. It is located inside a Meiji era building on the premises of the Osaka Mint Bureau.
The premises of Osaka Mint Bureau are famous for its more than 300 cherry trees. They are mostly of the later blooming kind called yaezakura trees. The cherry garden is usually not accessible except for a one week period every year in mid-April. Admission during this period is free.
Osaka Mint Museum: https://www.mint.go.jp/enjoy-eng/tour-eng/eng_plant_museum.html
10. Experience New Technology at the Panasonic Center Osaka
Picture from Panasonic Beauty SALON Ginza - Try DIY Beauty Treatments For Free
The Panasonic Center Osaka is a showroom of the famous electronics maker Panasonic. Newest technology, including Japan-limited inventions, can be viewed and tried here for free. It is an interesting place to explore what the future of electronics might hold.
Panasonic Osaka has not only items for fans of home electronics. The Panasonic beauty area offers treatments with Panasonic and Shiseido self-care products. However, fees may apply for beauty treatments.
Panasonic Japan Official Website: https://www.panasonic.com/global/corporate/center-osaka/en.html
Honorable Mention - Get the OSAKA AMAZING PASS
Picture from Hop On The Red Osaka Landmark, HEP FIVE's Ferris Wheel
The OSAKA AMAZING PASS is not free but it is worth the investment if you want to visit as many spots as possible. It will allow you to ride trains and buses for free and enter many of Osaka's most popular sightseeing spots and even shows and tours at reduced prices or for free such as the famous red HEP FIVE Ferris Wheel. The pass also offers deals and free presents at selected shops and facilities.
As of 2020, three versions are available: A one day pass (2,700 yen), a two-day pass (3,600 yen) and the "Expo'70 Commemorative Park Edition" (3,200 yen for one day), which includes free entrance to the Expo'70 Commemorative Park. The passes can be bought beforehand online or at many places throughout Osaka and even at selected vendors outside of Japan.
The pass becomes valid as soon as you use it for a bus or train, not before. The two-day pass is only available for two consecutive days.
OSAKA AMAZING PASS Official Website: https://www.osp.osaka-info.jp/en/
Enjoy Osaka for Free
Osaka is a great place to enjoy to your heart's content in every possible way. If you want to save money to and spend more on delicious food or fun souvenirs, we hope that this article will help to still enjoy this colorful city to its fullest!
The information presented in this article is based on the time it was written. Note that there may be changes in the merchandise, services, and prices that have occurred after this article was published. Please contact the facility or facilities in this article directly before visiting.