New And Popular Goods! Must Have February Souvenirs At Tokyo Disneyland!
New And Popular Goods! Must Have February Souvenirs At Tokyo Disneyland!
Limited time only shops have opened for the Lunar New Year season at Tokyo Disney Resort. The shops handle Tokyo Disney Resort-exclusive products, and are perfect places to find select souvenirs!
6. Seen At Narita Airport! Plush Dolls In Japanese Clothes
These are Mickey and Minnie Mouse Plush Dolls holding Japanese umbrellas while also dressed in Japanese clothes. They're priced at 3800 yen plus tax. The bottom of the Japanese umbrella is printed with Tokyo Disneyland in Japanese.
By the way, currently (as of February 2018), there is a poster of Mickey and Minnie Mouse dressed in Japanese clothes posted in the arrival lobby of Narita Airport to welcome travelers. The outfit that the dolls are dressed in are those very same outfits in the poster. They're perfect as souvenirs for coming to Japan.
Must Have Staple Souvenirs
7. Tokyo Bananas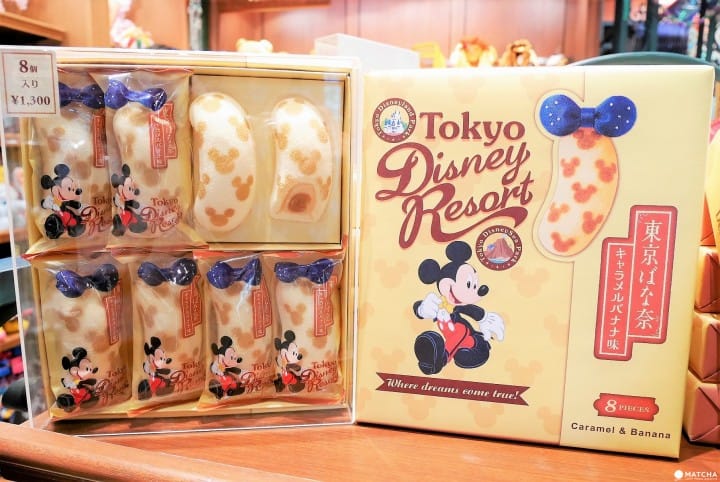 Tokyo Bananas are a staple Tokyo souvenir. These Mickey Mouse Tokyo Bananas are a Tokyo Disneyland only product.
They are original Tokyo Bananas printed with a Mickey Mouse design. The individual packaging is printed with a blue ribbon to adorably decorate the Tokyo Bananas even more.
The caramel and banana flavor, made with two layers of banana custard and caramel, is also a flavor that can only be purchased here. It is priced at 1300 yen plus tax for a box of eight bananas.
8. Tea Sets
This is a tea set with three types of tea – sencha (green leaf tea), hojicha (roasted green tea), and genmaicha (brown rice tea) – inside their respective cans. They're easy to drink because they're in tea packs. A set with three cans, each with eight tea packs inside, is 1500 yen plus tax.
9. Unwaivering Popularity! The Winnie the Pooh Corner
Winnie the Pooh goods are super popular regardless of the season. During this season, yellow and red are popular colors for the Lunar New Year, especially for customers from China.
When you clap near this plush doll, it'll begin moving in response to the sound! It's super adorable, so please try testing it out. It's priced at 2200 yen plus tax.
For more information about popular staple goods, please read the article "11 Irresistible Winnie The Pooh Goods – Only At Tokyo Disneyland!"
Buy Postcards at the Shop & Mail Them in the Park!
Did you know that there are postboxes with MAIL BOX written on them in various places inside Tokyo Disneyland? When you mail a letter or postcard through the postboxes in the park, it will be stamped with an original stamp and then sent to your addressee.
The stamp design will vary depending on the period, so it sounds like it would be fun to mail something for every time you visit the park. This time, a postcard unique to Japan is being sold at the limited time shop.
Employees will also sell stamps if you ask them, so how about sending a postcard to your family or friends?
For information on how to send postcards overseas from Japan, please read the article "Not Just A Souvenir! Another Way To Enjoy Postcards From Your Travels."
10. Purchasable Postcards
Here are postcards (200 yen plus tax per card) with photographs of Mickey and Minnie Mouse along with Cinderella's castle and cherry blossom trees in the background. These photos were taken when the cherry blossoms were blooming.
Here is another product inspired by the cherry blossoms. It is 200 yen plus tax. You can feel its Japanese theme in the cherry blossoms drawn in various shades of pink.
Here is another new product, a logo postcard inspired by the attractions at the park (200 yen plus tax per card). It's a card that'll say, "I went to Tokyo Disneyland!" at a glance.
Party Gras Gifts: Tokyo Disneyland's Limited Time Shop
Party Gras Gifts is located in front of the show space Theatre Orleans in the Adventureland area inside Tokyo Disneyland.
Inside the shop, there are many other products aside from the ones we've introduced above that are popular among international visitors. These include character goods from the movie "Frozen", stationery, and staple chocolate crunch products.
Events Full Of Highlights Until Mid-March!
From "Anna And Elsa's Frozen Fantasy At Tokyo Disneyland – Until March 2018!"
Anna and Elsa's Frozen Fantasy, a special winter event at Tokyo Disneyland, and Pixar Playtime, an event where characters from Pixar movies take the lead at Tokyo DisneySea, are both being held until March 19th, 2018.
Both events are ones that you won't want to miss. By all means, please visit!
* This article is a rewritten 2018 version of an article that was published on January 26th, 2017.
Made in cooperation with: Oriental Land Co., Ltd.
The information presented in this article is based on the time it was written. Note that there may be changes in the merchandise, services, and prices that have occurred after this article was published. Please contact the facility or facilities in this article directly before visiting.