Soaring: Fantastic Flight Lifts Off At Tokyo DisneySea
Soaring: Fantastic Flight, the latest attraction at Tokyo DisneySea, opened in July 2019. This article includes the writer's impressions on the new attraction, must-see merchandise and menus, as well as the brand new stage show.
The Most Exciting Disney Attraction in 2019
Have you heard about Soaring: Fantastic Flight (Soaring), the newest attraction at Tokyo DisneySea? A large number of Disney fans, including the writer, have been waiting for this attraction. The following article is an on-site report.
Soaring: An Exclusive Attraction at Tokyo DisneySea
© Disney
Soaring is based on the flight simulator attraction Soarin' Around the World, which is located at various Disney parks overseas. There are exclusive scenes that can only be experienced at Tokyo DisneySea, so ride-goers who have experienced the overseas version will also enjoy Soaring. (Please note that the guest's height must be 102 centimeters or taller for this ride.)
This attraction can be enjoyed by visitors of all ages and will be a fun attraction to experience with family members in tow.
The Storyline
© Disney
The Museum of Fantastic Flight—displaying materials about humankind's dream of flying—stands on the hilltop of Mediterranean Harbor. This is the stage of the attraction. Here, the museum hosts a retrospective of the fictitious aviatrix Camellia Falco, who is the main character of the attraction.
Inside the white-walled museum, there are various exhibits centered around the persistent dream of people flying, along with reports of flights from all over the world.
Camellia's achievements are on display at the retrospective. There is also a passionate message from the female pilot urging the guests to board a ride dubbed the Dream Flyer. What in the world will happen to ride-goers?
Take Flight and Embark Upon Another World
When you enter the room, you'll spot three rows of chairs. Following an explanation by a cast member, the seat belts are fastened and the chairs begin to rise.
© Disney
Soaring above fields and mountains, the flight takes off with the scenery constantly changing right before your eyes and below your dangling feet. As a breeze sweeps past your cheek, you'll catch the aroma of grass and roses. Like a bird flying freely, ride-goers tour famous places around the world and take in fantastic sights.
The ride lasts for five minutes. While this may seem short, trotting around the globe was definitely fun.
Must-See Special Menus and Merchandise
To commemorate the opening of Soaring, there are special menus and merchandise sold at the park. Don't forget to check them out after the ride.
A Cute, Commemorative Popcorn Bucket
Aside from an array of special dishes, a cute commemorative popcorn bucket is on sale. There's a small Mickey-shaped cloud on the lid and if you turn it, the Dream Flyer with Mickey and Minnie will appear.
Mickey-shaped clouds are also attached to both ends of the strap. The bucket comes with caramel-flavored popcorn, which can be quite addictive (2,000 yen including tax).
Sky-Themed Special Menus at Fantastic Flight
Resembling the sky, the photograph shows beverages with a blue and white gradation. On the back of cup, you'll see a portrait of Mickey dressed in a flight suit.
The drink comes with lemon jelly and lychee-flavored tapioca, which adds a fruity taste and is perfect for a hot summer day (450 yen including tax).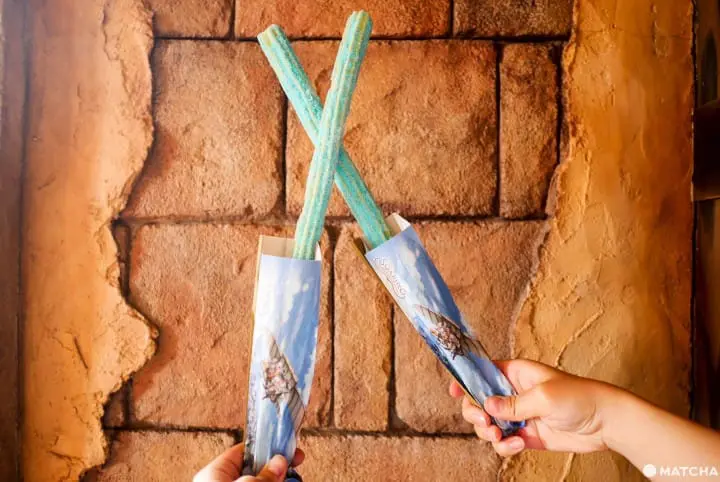 The churro dosed with a coating of blue and white sugar is an analogy of the blue sky and white clouds. It has a slight, sour-sweet pineapple taste, which makes for another ideal summer snack (400 yen including tax).
Special Merchandise You'll Want to Get Your Hands On
From the attraction's opening day, many fans scooped up about thirty commemorative goods that went on sale. They are all limited items so be sure to stop by the shops.
One of these items is a stuffed push badge of Mickey, Minnie, and Donald Duck (2,200 yen per doll including tax), all dressed in flight suits. The costumes are intricately made from select materials, so some Disney fans may feel inclined to buy them all.
© Disney
The right-hand photograph is a Tomica (die-cast mini-car). Appearing as if the bus is floating, the roof of the car is painted with a blue sky dotted by white clouds while the side is decorated with Mickey dressed as a pilot. There is also a Mickey-shaped emblem above the bumper (1,200 yen including tax).
The box in the upper left-hand photograph contains one of the four figurines in the photo below. Some fans may be tempted to collect all of them (700 yen including tax).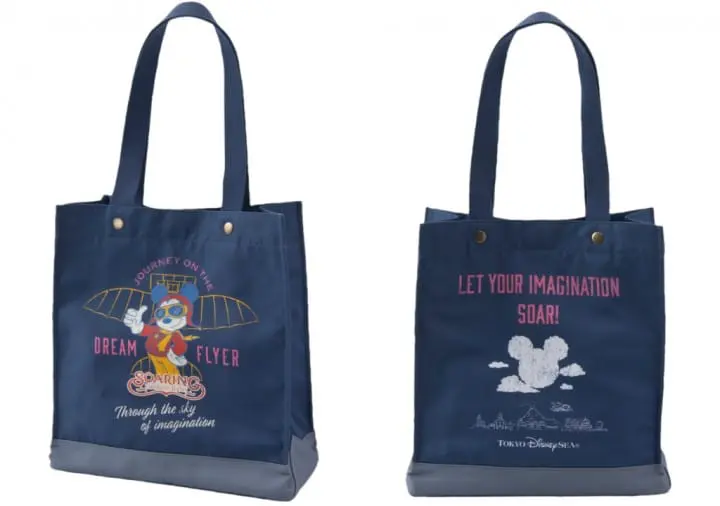 © Disney
The large tote bag is another popular item. It is made from denim with a stylish Mickey posing on the front and Mickey-shaped clouds on the back. The bag looks good worn on either sides (3,600 yen including tax).
T-shirt: 2,900 yen/Cap: 2,800 yen/Glasses: 2,300 yen. All prices include tax.
We also recommend purchasing the commemorative T-shirts, caps, and glasses. By adorning yourself in Soaring fashion, you'll be able to enjoy the joyous feeling in the park.
All-New Show: Song of Mirage
Song of Mirage is a new stage show, performed at the Hangar Stage in Lost River Delta, that opened in the summer of 2019.
Dressed in adventurer's outfits, Mickey, Minnie, Donald, and Goofy, who's the pilot, pick up a magic cane that sets off on an escapade across time and space.
They arrive at Rio Dorado—an unexplored region—and try to overcome obstacles with courage and the power to believe in dreams.
The new show has a realistic setting with stunning projection mapping, amazing songs and dance numbers, and a story with twists and turns. The entire audience with a diverse age range couldn't keep their eyes off the stage.
Enjoy Your Soaring Ride!
After reading this article, don't you feel like heading to Tokyo DisneySea? New attractions always draw a large crowd, but effectively using a Disney FastPass will reduce the time waiting in line.

However, the writer definitely believes that Soaring is a popular attraction worth standing in a queue. Because Tokyo DisneySea continues to surprise park-goers every year, fans are already wondering what will come next.

In cooperation with Oriental Land Co., Ltd.


The information presented in this article is based on the time it was written. Note that there may be changes in the merchandise, services, and prices that have occurred after this article was published. Please contact the facility or facilities in this article directly before visiting.